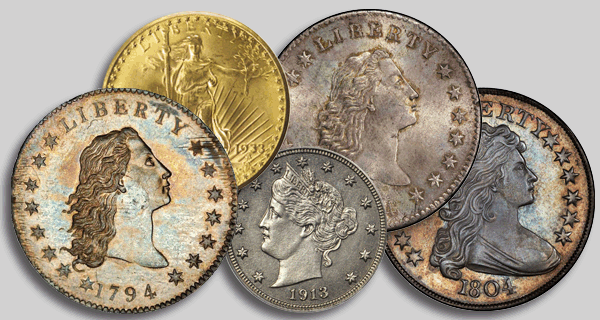 Imagine this: you wake up one day filthy rich. You have more money than you can possibly spend — cash stuffed under your mattress and buried in mason jars all over your sprawling estate(s) and oodles of it languishing (or flourishing!) in offshore accounts. You're not just a millionaire — you're a billionaire, like Jeff Bezos or Bill Gates. What on earth do you spend your money on?
If you're reading this blog, you've probably got a considerable interest in numismatics. So, if you happened to land in a bottomless pile of cash, would you invest in rare coins? Would you spend $10 million on a single coin... a coin that has a face value of $1 and a current melt value around $13?
For giggles and grins, let's delve into the top five most expensive United States coins ever sold at auction to prove that if you're a collector, money can indeed buy happiness.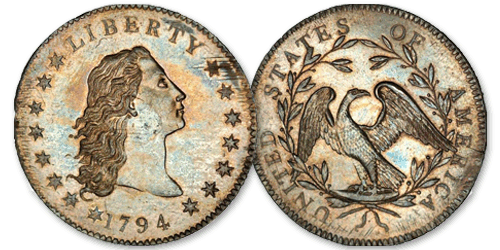 1. 1794 Flowing Hair Silver Dollar: $10,016,875
Sold in 2013, this is the first coin to ever sell at auction for over $10 million and the current record holder for the highest priced United States coin. Described by many experts as possibly the very first silver dollar struck, this 1794 Flowing Hair silver dollar made headlines around the world when it realized eight figures at auction. It remains the finest known example to exist, given a spectacular SP-66 grade by PCGS.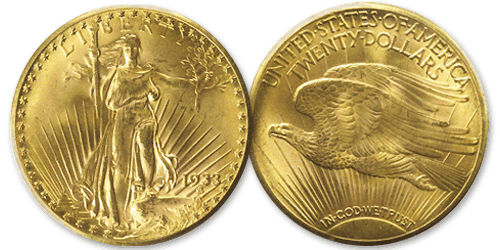 2. 1933 Saint-Gaudens Double Eagle: $7,590,020
The 1933 Saint-Gaudens Double Eagle is the stuff of legends. This once illegal coin was stolen from the mint in 1933 when gold coins were ordered to be destroyed. The provenance of this coin reads like a novel — weaving a tale of thievery, government blunders, an Egyptian King and the Secret Service... finally resulting in becoming the only specimen legal to own. Read more about it here.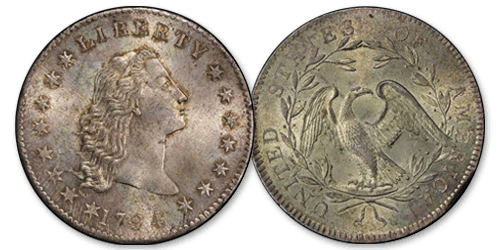 3. 1794 Flowing Hair Silver Dollar: $4,993,750
Not surprisingly, another Flowing Hair silver dollar has made the list. Just 1,758 of these dollars were minted in 1794 and only 135 to 150 specimens are thought to survive today in varying grades. This coin's MS-66+ grade coupled with its illustrious provenance from the Lord St. Oswald collection helped it fetch nearly $5 million in a 2015 auction.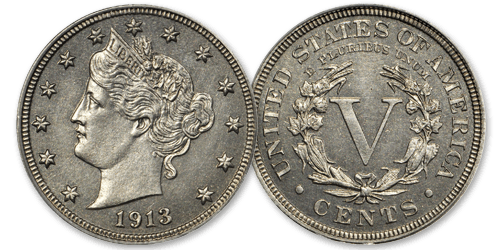 4. 1913 Liberty Head Nickel: $4,560,000
That's A LOT of nickels! The Liberty Head series was supposed to end in 1912, but somehow or another, at least five unauthorized pieces were struck bearing the date of 1913. Only FIVE examples are known to exist. Two were donated to public institutions, leaving the remaining three with private collectors, but this — the Eliasberg Specimen, graded Proof-66 — is the most exceptional of them all. In 1996, this coin sold for over $1.4 million — and became the first coin to break the million dollar mark. The Eliasberg Specimen again went to auction in 2018 where it obtained a handsome sum of over $4.5 million.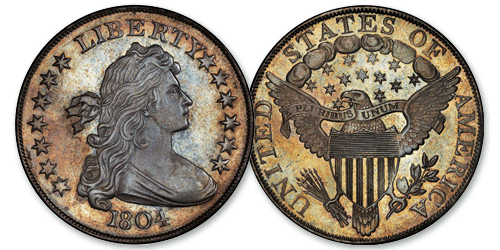 5. 1804 Draped Bust Silver Dollar: $4,140,000
A legend in its own right, just 15 examples of the 1804 Draped Bust silver dollars are known to exist. Struck not in 1804 as the date suggests, but in 1834, these silver dollars were intended for Proof sets what would be presented to dignitaries and their brethren. This particular 1804 dollar was indeed a gift fit for a king; its provenance can be traced back to the original recipient, the Sultan of Muscat. Identified as the finest 1804 Draped Bust silver dollar, this Class I original strike was given a spectacular grading of Proof-68 by PCGS and sold at auction in 1999 for over $4 million.
While there are other rare United States coins out there that could generate as much as $15 to $20 million (the 1907 Indian Head $20 Saint-Gaudens gold pattern coin and the 1849 $20 Liberty gold piece, for example), they are unlikely to ever appear on the auction block as they are in the hands of private collectors or resting in the collections of the Smithsonian. So for now, kick back and dream on. Hopefully by the time another ultra-rare U.S. coin goes up for auction, our imagination and bank accounts will have synchronized.