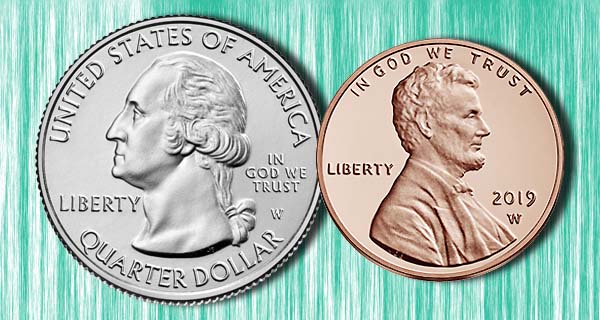 The West Point Mint has not always been a mint. Initially opened in 1938 as a silver bullion depository and colloquially called the "Fort Knox of Silver," its importance to the numismatic community has grown and in recent months, has had coin buffs across the nation totally twitterpated.
Much Ado About a Mintmark
Earlier this year, the U.S. Mint created a stir when it announced that its West Point branch would be striking America the Beautiful quarters that would showcase the W mintmark and that they would only be available in commerce.
Prior to that announcement and with less fanfare, the Mint also introduced three special edition Lincoln cents that would be struck at West Point and would be available exclusively with the purchase of the 2019 clad proof set, silver proof set and uncirculated mint set. For the first time in its 110 years of production, the Lincoln cent would sport a fancy new W on its obverse.
Covert Coins
So what's the fuss? Well, remember that West Point was originally only a bullion depository? Perhaps unbeknownst to the majority of the public, West Point actually began minting coins even before it became a mint. In the 1970s, in an effort to reduce the demand for coins from the Philadelphia Mint, West Point struck pennies and quarters for circulation. But these Lincolns and Washingtons did not wear a mintmark, making them indistinguishable from those output at Philadelphia.
A Mint is Born
West Point is to coins as Tiffany is to diamonds. West Point denotes excellence, thanks in part the sharing its name (although unaffiliated in every other way) with the prestigious West Point Military Academy. In the 1980s, West Point struck the finest quality medals and commemorative coins in gold, before finally becoming a United States branch mint in 1988.
The following decade, West Point expanded its commemorative coin production to include silver issues, but still had yet to strike coins for circulation. To mark the 50th anniversary of the Roosevelt dime, West Point struck the coveted uncirculated 1996-W issue — however, it was only available with the purchase of the year's mint set. Like its San Francisco counterpart, West Point was also responsible for producing proof and commemorative coins as well as bullion coins. But finally, 31 years after becoming a mint, it has issued quarters for circulation.
West Point Challenge
The challenge now is for collectors to get their hands on these hard to come by treasures. Since the first ever W cents were only issued with this year's proof and mint sets, they're tough to find for penny collectors who do not buy these annual sets. The W quarters present their own challenge for collectors. With just 10 million to be released into circulation in 2019, many collectors are acquiring quarter rolls from banks to hunt for the coveted mintmark and still others are lucky enough to find them in their own change. Have you been able to add any of these West Point coins to your collection?