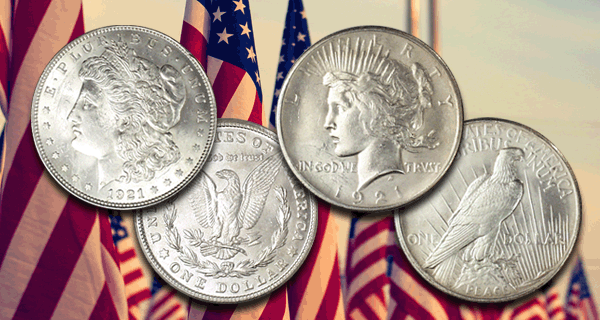 Congress is at it again. But this time, perhaps with something that will benefit the numismatic community. Nearly 100 years ago, the Peace dollar was struck for the first time, laying the Morgan series to rest. To celebrate the centennial event, Congress has recently introduced bill H.R. 3757 as the 1921 Silver Dollar Commemorative Coin Act.
Classic Silver Dollars
With the First World War still in recent memory, the 1921 Peace dollar was struck to commemorate a time of peace. Designed by Italian-American Anthony de Francisci, the Peace dollar featured the Goddess of Liberty on its obverse and, as an emblem of peace, a bald eagle clutching an olive branch on its reverse.
The transition from the long-lived Morgan dollar to the Peace dollar is seen as a pivotal moment in the history of the United States. First struck in 1878, the Morgan dollar became representative of America's westward expansion and widespread industrialization. By 1921, the nation had changed... America had come of age and emerged as an international power. The Peace dollar reflected this growth while recognizing the sacrifices made by Americans during World War I and the ensuing times of peace.
A New Silver Dollar
To honor the centennial of this historic transition, Congress has proposed the creation of a new commemorative silver dollar to be dated 2021. In its introductory stage, the bill states that no more than 500,000 of the coins will be struck and its design must be representative of the Morgan or Peace dollar or both. Interestingly, the bill also proposes minting a portion of these coins at the Nevada State Museum, which was formerly the famed Carson City Mint facility.
If H.R. 3757 passes and the 2021 silver dollars come to fruition, the American Numismatic Association will receive 40% of the surcharges from the sale of the coins to support numismatic education. This would be the first time the numismatic community will directly benefit from the proceeds of a commemorative coin program.
How to Make it Happen
If you are interested in encouraging your Congressional representative to support H.R. 3757, visit United States House of Reprentatives to find your representative's contact information by zipcode.